The Drôme provençale is situated North of Vaucluse and the Enclave of the Popes. The two plains of Tricastin and Montélimar follow each other and are only separated by the straight of Donzère and the Mont "Désert":
The first plain cut by the Lez will lead you from Pierrelatte to Nyons passing the Garde Adhémar and Grignan with the castle where the daughter of Madame de Sévigné lived.

On the second plain, cut by the Jabron and the Roubion, you will discover the valley of Dieulefit known for the beauty of the surrounding mountains and the forest of Saou.

You may discover Ardeche with its famous canyons where the adventurous will feel obliged to go downriver canoeing.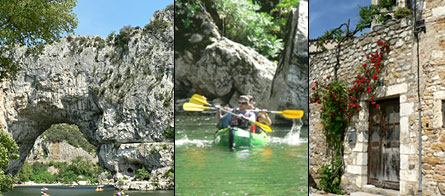 The Vercors, the Mont Ventoux, the lace of Monmirails, Nyons and its surroundings are all within one hour by car.
The Abbey of Aiguebelle, founded in 1137, is an absolute must.

The wine experts won't miss the occasion to visit the wine university in Suze la Rousse and the wine tasting in the numerous wine cellars of Tricastin and Côtes de Rhône wines.

Finally you will discover the typical Drôme Provençal village of Allan, originally built during the Roman Empire (Allondunum) actually undergoing restoration.